The Five Mindfulness Trainings have their root in the Five Precepts offered by the Buddha. They have been expanded and updated to represent a way to bring mindfulness into every area of life. Rather than hard and fast rules, they offer a framework to reflect on our actions, speech and, thinking so we can create more happiness for ourselves and for the world around us.
During this special Dharma talk for Asian sangha friends, Sister True Virtue will respond to questions on practising the Five Mindfulness Trainings in daily life.
The Dharma talk will be in English and interpreted simultaneously into
Bahasa Indonesia, Mandarin, and Japanese.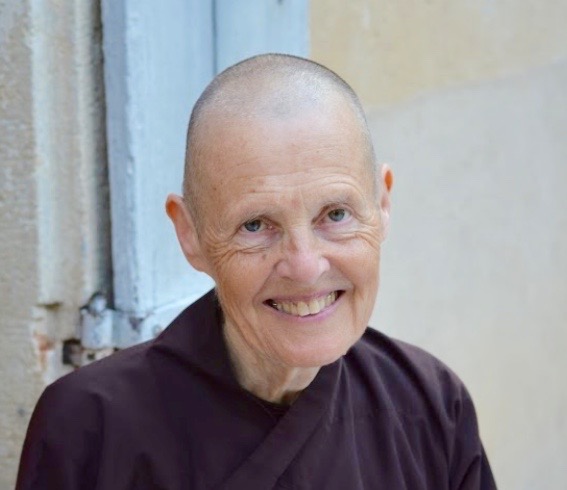 Sister Chân Đức - True Virtue
Sr. True Virtue grew up on an idyllic Cornwall farm, and as a child, aspired to become a Catholic nun. Her studies in the classical languages took her to Greece where she first encountered Buddhism. Her spiritual journey continued in India, practicing with Tibetan nuns at the foot of the Himalayas. After meeting Thầy in England, Sr. Chân Đức came to Plum Village and was ordained by Thầy's on Vulture Peak in 1988, becoming his first western monastic disciple.
Sr. Chân Đức is much respected for her deep understanding of the Buddha's teachings and ethical guidelines. She is regularly invited to guide retreats across Europe, particularly in the UK and in Germany, at Plum Village's European Institute of Applied Buddhism. Her mastery of Sanskrit and Vietnamese makes her a principal translator of sutras and Thầy's teachings into English.
Sr. Chân Đức loves growing organic vegetables, taking walks in nature, hugging trees, and composing practice songs.
Read Sr. Chân Đức's autobiography, True Virtue